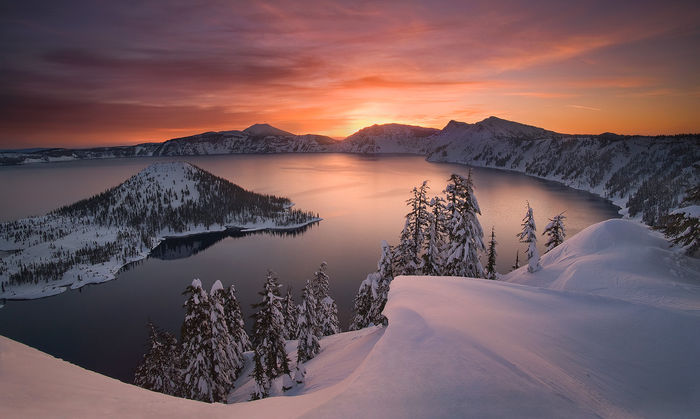 Overwhelmingly yet sublimely beautiful. Moody.
At times brilliantly blue, ominously somber; at other times buried in a mass of brooding clouds.
The lake is magical, enchanting - a remnant of fiery times, a reflector of its adjacent forested slopes, a product of Nature's grand design.
Provided by the National Park Service
Few places on earth command overwhelming awe from observers, but Crater Lake, in south central Oregon, certainly does. Even in a region of volcanic wonders, Crater Lake can only be described in superlatives. Stories of the deep blue lake can never prepare visitors for their first breathtaking look from the brink of this 6 mile wide caldera which was created by the eruption and collapse of Mt. Mazama almost 7,000 years ago. Even seasoned travelers gasp at the twenty-mile circle of cliffs, tinted in subtle shades and fringed with hemlock, fir, and pine: all this in a lake of indescribable blue.
Crater Lake National Park is host to a diverse array of activities. While enjoying the natural scenic wonders, park visitors may hike in old growth forests, participate in a variety of interpretive activites, camp out or stay in an historic hotel, or even cross- country ski during the eight month long winters which are experienced here in the high Cascades.
Preserving this environment for the continued use and enjoyment of the public is also a major goal of the National Park Service. Resource managers are invloved in studies on lake ecology, forest ecosystems, geologic processes, even the role of fire in maintaining healthy relationships between the forests and the land. Their work yields valuable data on the natural systems which have created and maintained that which we fondly call Crater Lake National Park.
Crater Lake National Park has been recommended as a wilderness preserve, a place where we may forget ourselves for a time and enjoy a surge of healthy outdoor exploration. Here, we may rediscover ourselves and learn that material things do not necessarily constitute our richest possessions. This blue gem of the Cascades certainly moves us deeply when we imagine the awesome power which created this wonderful place.
Visitors to the park enjoy multiple opportunities to explore the caldera and enjoy all the spectacular view points on the 33 mile long rim drive. A peaceful guided boat tour, hiking trails and interpretive programs are offered in the summer and Ranger lead snowshoe walks and many trails for cross-country skiing in the winter.
Crater Lake is widely known for its intense blue color and spectacular views. During summer, visitors may navigate the Rim Drive around the lake, enjoy boat tours on the lake surface, stay in the historic Crater Lake Lodge, camp at Mazama Village, or hike some of the park's various trails including Mt. Scott at 8,929 ft. Diverse interpretive programs enhance visitors' knowledge and appreciation of this national park, 90% of which is managed as wilderness. The winter brings some of the heaviest snowfall in the country, averaging 533 inches per year. Although park facilities mostly close for this snowy season, visitors may view the lake during fair weather, enjoy cross-country skiing, and participate in weekend snowshoe hikes.
Park History
Local Native Americans witnessed the collapse of Mount Mazama and kept the event alive in their legends. One ancient legend of the Klamath people closely parallels the geologic story which emerges from today's scientific research. The legend tells of two Chiefs, Llao of the Below World and Skell of the Above World, pitted in a battle which ended up in the destruction of Llao's home, Mt. Mazama. The battle was witnessed in the eruption of Mt. Mazama and the creation of Crater Lake.
The Klamaths revered the lake and the surrounding area, keeping it undiscovered by white explorers until 1853. That year, on June 12, three gold prospectors, John Wesley Hillman, Henry Klippel, and Isaac Skeeters, came upon a long, sloping mountain. Upon reaching its highest point, a huge, awe-inspiring lake was visible. "This is the bluest lake we've ever seen," they reported, and named it Deep Blue Lake. But gold was more on the minds of settlers at the time and the discovery was soon forgotten.
Captain Clarence Dutton was the next man to make a discovery at Crater Lake. Dutton commanded a U.S. Geological Survey party which carried the Cleetwood, a half-ton survey boat, up the steep slopes of the mountain then lowered it to the lake. From the stern of the Cleetwood, a piece of pipe on the end of a spool of piano wire sounded the depth of the lake at 168 differnt points. Dutton's soundings of 1,996 feet were amazingly close to the sonar readings made in 1959 that established the lake's deepest point at 1,932 feet.
William Gladstone Steel devoted his life and fortune to the establishment and management of Crater Lake National Park. His preoccupation with the lake began in 1870. In his efforts to bring recognition to the park, he participated in lake surveys that provided scientific support. He named many of the lake's landmarks, including Wizard Island, Llao Rock, and Skell Head. Steel's dream was realized on May 22, 1902 when President Theodore Roosevelt signed the bill giving Crater Lake national park status. And because of Steel's involvement, Crater Lake Lodge was opened in 1915 and the Rim Drive was completed in 1918.
HOW TO FIND CRATER LAKE
From Roseburg - Route 138 east to the park's north entrance.
From Bend - Route 97 south to route 138 west to the park's north entrance.
From Medford - Route 62 north and east to the park's west entrance.
From Klamath Falls - Route 97 north to route 62 north and west to the park's south entrance.
*The park's north entrance is typically closed for the winter season from mid-October to mid-June.
DRIVING DISTANCES
Bend, OR - 119 miles
Klamath Falls - 57 miles
Los Angeles - 785 miles
Medford - 77 miles
Portland - 250 miles
San Francisco - 450 miles
Seattle - 422 miles
Did You Know?
Because Crater Lake is filled almost entirely by snowfall, it is one of the clearest lakes anywhere in the world. Scientists using a reflector called a Secchi disk commonly record clarity readings of 120 feet. On June 25, 1997 scientists recorded a record clarity reading of 142 feet.
A small volcanic island, Wizard Island, rises 764 feet above the surface of the lake on its west side. A small crater, 300 feet across and 90 feet deep, rests on the summit.
Crater Lake was named for this beautiful, symmetrical crater by James Sutton, editor of the Oregon Sentinel in Jacksonville, in 1869.
Scientists have identified 157 species of phytoplankton and 12 species of zooplankton in the lake. The density and diversity of these minute life forms is restricted by low concentrations of nitrogen in the lake. Large colonies of moss circle the lake at depths of up to 400 feet. At the bottom of the lake, communities of bacteria grow around at least two areas of hydrothermal activity. Two species of fish, rainbow trout and kokanee salmon, also thrive in the lake, the result of stocking between 1888 and 1942.
Sinnott Memorial Overlook and Museum
Built in 1930 and 1931, the Sinnott Memorial Overlook is located below the caldera rim at Rim Village. A short but steep path begins near the Rim Visitor Center. The Overlook and its accompany museum are available to visitors as staff is available. Exhibits focus on the history of research on the lake and the geologic history of historic Mt. Mazama. Ranger talks relating the formation of Crater Lake are given from the Overlook daily at 11:00 a.m., 12:30 p.m., 2:00 p.m., and 3:30 p.m from June 26 through September 5th.
Boat Tours
The boat tours are accessible only by hiking the one mile Cleetwood Cove trail located on the north side of Crater Lake. It climbs 700 feet in elevation and is recommended only for those in good physical condition. It is not recommended if you have heart, breathing, or leg problems.
Temperatures on the lake may be much cooler than those at the trailhead so bring extra clothing and a hat. There is no water available at Cleetwood Cove. You will need to bring your own. Composting toilets are available at the boat dock. A vault toilet is available at the trailhead.
Tickets are purchased at the top of the trail. No reservations are taken. Allow at least one hour to drive from Rim Village to Cleetwood Cove parking area and to hike down the steep trail.
What can we learn from Crater Lake? Why is it important geologically and ecologically? And when's the last time you were inside a caldera? This two hour, ranger lead tour is operated by the Xanterra Parks & Resorts in cooperation with the National Park Service to provide visitors with an expanded knowledge of the lake and its resources, whether visible, submerged, or intangible. Boat tours are scheduled to begin in early July - however, inquire at the park visitor centers to insure correct information.
Cost: $20.00 for adults $12.00 for children 11 and under and free for those 24 months and under. Prices Subject to Change.
Wizard Island Options:
Boats stop at Wizard Island. It is possible to stay on the island and take a later boat back. However, your return journey is dependent upon available space on returning boats. You are not guaranteed a ride back until the final tour of the day, possibly arriving at the Cleetwood Dock as late as 6:30 p.m. There are two hiking trails on Wizard Island. There is no camping allowed on the Island. Keep in mind that Wizard Island is a remarkable place: an infant cinder cone with all the expected hazards: extremely rough lava, loose cinder, and dry conditions. Use caution when hiking. A pit toilet is located at the dock area. There are no other facilities provided for the public on Wizard Island.
Hiking and Biking
This national park has over 180,000 acres of which only 11,500 are taken up by the lake. The remaining 93% is land based, most of it backcountry. In fact, portions of the park await designation as wilderness. There are approximately 90 miles of hiking trails in the park -- with each one offering the visitor a chance to take a closer look at nature or study a geological feature. You can hike for several days or wander quietly as long as you like. In addition to the many trails that start inside the park, there are several connections with paths in the surrounding National Forests. A good example is the Pacific Crest Trail, which runs all the way from the Mexico to Canada and passes through Crater Lake's backcountry.
No bicycles are allowed on any park trails. Bicycling is allowed only on paved roads, the Grayback Motor Nature Trail, and the dirt trail entering the park on the east side near the Pinnacles.
Start your trip at the information desk located in the Steel Center in Munson Valley or the Rim Village Information Center. Park staff will also issue free backcountry permits for overnight stays and inform you of the regulations designed to protect these areas.
Bring plenty of food and water. Wear comfortable shoes or boots. If you plan on drinking stream water, you need to treat it with a reliable purification system. You should also be prepared for any extremes of weather. Temperatures can change dramatically in the course of a day. Snow has fallen in all twelve months of the year here. This information should be helpful in planning your trip to Crater Lake. Take time to enjoy the spectacular views of the lake but include time to relax and enjoy the green forests, cool mountain streams, and other magnificent features of Crater Lake's backcountry.
The following is a partial list of day hikes at Crater Lake National Park. The list is organized according to estimated time length for completing the hike. Please note that steep terrain of Crater Lake means time, length and difficulty are not directly related. Times are given are estimates of how long it will take to complete the trail and return to the trailhead. Trails listed as strenuous should be taken only by people in good physical condition.
▪ Sun Notch View - Time: 20 minutes, Length: 0.25 miles one way, Elevation: 7000 - 7115 ft., Difficulty: moderate, Trailhead: 4 miles east of Park HQ on East Rim Drive, marked by a sign. Feature: Overlook of Crater Lake and Phantom Ship, scattered wildflowers, dry meadow. Use caution near steep edges.
▪ Godfrey Glen - Time: 30 minutes, Length: 1.00 miles, Elevation: 6000 - 6050 ft., Difficulty: easy, Trailhead: 2.4 miles south of Park HQ.
▪ Castle Crest Wildflower Garden - Time: 30-45 minutes, Length: .4 mile loop from Rim Drive, 1 mile loop from Park HQ, Elevation: 6400 - 6500 ft., Difficulty: easy but some uneven ground and rocks, Trailhead: 1) East Rim Drive, 0.5 miles from park HQ, or 2) Across road from Park HQ parking lot. Features: Small brook, lush vegetation, and spectacular blooms of wildflowers in summer months.
▪ The Watchman - Time: 1 hour, Length: 0.7 miles. one way, Elevation: 7400 to 8056 ft, Difficulty: difficult, steep, Trailhead: "The Corrals", 3.7 miles northwest of Rim Village on West Rim Drive. Features: Panorama of surrounding area, overlook of Wizard Island, a historic fire lookout and an interpretive map of local peaks and landforms.
▪ Annie Creek Canyon - Time - 1 hour and 15 min, Length: 1.7 mile loop, Elevation: 5800 to 6000 ft., Difficulty: moderate, Trailhead: Amphitheater at Mazama Campground. Features: Deep stream cut canyon, creek habitats, wildflowers and occasional animals.
▪ Cleetwood Cove (lake shore trail) - Time - 1 hour, Length: 1.1 miles, one way, Elevation: 6850 to 6176 ft., Difficulty, strenuous, 11% grade, Trailhead: Parking area 4.5 mi. east of North Junction. Features: Access to lake shore and boat landing.
▪ Garfield Peak - Time: 2 to 3 hours, Length: 1.7 miles, one way, Elevation. 7050 to 9060 ft, Difficulty: difficult, Trailhead: Rim Village Parking Lot. Features: Panorama of surrounding area, excellent views of Crater Lake, occasional small animals, wildflowers, and an overhead view of Phantom Ship.
▪ Mt. Scott - Time: - 3 hours, Length: 2.5 miles. one way, Elevation: 7450 to 8929 ft., Difficulty: - strenuous, Trailhead: 14 miles east of Park HQ, across East Rim Drive from road to Cloudcap junction.
Wildlife Viewing Opportunities
Spring at Crater Lake National Park- is a very long season or merely a heartbeat, depending on your perspective. With the disappearance of the several feet of snow that blankets the area until early summer, wildflowers bloom, transitory birds return, trees bud, and animals play in the abundance of summer. The largest park residents are the deer and elk that roam the woods of the park from June until October. A herd of pronghorn antelope also migrate across the Pumice Desert in the northern end of the park in early summer as the snow finally leaves the ground. These ungulates, a word used to describe hoofed animals, indicate that summer is here; that the plants and trees are in the midst of their growing season.
Pine martens, mice, squirrels, and rabbits are just a sampling of winter wildlife who stay active by feeding on pine seeds, hemlock bark and other gifts left by summer's vegetation. Deer must migrate to lower elevations, sometimes traveling up to thirty miles to the Rogue Valley where a food supply is still available. Deer and elk feed mainly on different types of grasses and lichens, as well as twigs and bark of hemlock, lodgepole pine, and Douglas fir. Carnivores, or meat eaters, don't suffer the same food loss as deer when plants are snowed in.
Elk are the largest of the park's animals, with females weighing as much as 700 lbs. and males weighing up to 1100 lbs. They commonly come into the south and western areas of the park as snow allows, usually around mid-June. The species native to the park, Roosevelt Elk, were hunted nearly to extinction in the park by early settlers. To help the population, 15 elk were from Wallowa County, Oregon. Oregon's first state game warden, William L. Finley, brought in 15 elk from the National Elk Refuge in Jackson Hole, Wyoming, in 1912, to live in a protected enclosure at Billy Meadows north of Enterprise. Another 15 were brought in 1913. The Crater Lake elk are descendants of these. The effort was successful; today, more than 160 elk (approx) have been counted within the park in recent summers. Deer winter with elk and generally live in the same regions.
All of these beautiful animals travel in both daylight and during evening hours. Please obey all speed regulations and be very watchful as you travel park roadways for your safety and theirs. Henry David Thoreau wrote, "Perhaps what moves us in winter is some reminiscence of far-off summer. The cold is merely superficial - it is summer still at the core, far, far within." It is the wakeful summer core that maintains the sleeping winter of Crater Lake. Deer and elk are a welcome indication of this transition.
Camping
There are two developed campgrounds at Crater Lake. Mazama Campground is located near the Annie Springs Entrance Station. Lost Creek Campground is accessed by taking East Rim Drive to the Pinnacles road. Campsites are all on a first come, first served basis. No reservations are taken. Camping opportunities are also available at several locations outside the park.
Mazama Campground
- This 198 site campground is operated by Xanterra Parks & Resorts. Call 541-594-3704 for prices regarding sites per night. Fresh water, flush toilets, a dump station, pay showers, and laundry facilities are available. There are no utility hookups. Fires are permitted in designated fireplaces only. Firewood is available for purchase at the Mazama Store. Campers are allowed to collect only dead and downed wood. Mazama Campground is open from June 11 to October 4, 2004, weather permitting.
Lost Creek Campground
- A 16 site tents-only campground is operated by the National Park Service. It normally opens in July and closes for the season in mid-September. Check at the park visitor centers at 541-594-3100 for exact opening and closing dates & rates. Sites are first come-first serve, they do Not Reserve by phone. These sites fill by early afternoon, so campers should select sites upon arriving in the park.
Visitor Services
Food and Beverages
- Crater Lake National Park offers three types of dining. The Crater Lake Lodge Dining Room is located in the Crater Lake Lodge and offers fine dining featuring Northwest regional cuisine. The Lodge Dining Room is open for breakfast, lunch, and dinner from May 26 to October 17, 2004. The Café is located adjacent to the Gift Shop at Rim Village and serves breakfast, lunch, and dinner. The Café is open year-round with decreased hours in the winter. The Watchman Buffet is upstairs from the Café and offers a dinner buffet. Its hours are 5:00 p.m. to 10:00 p.m. from June 11 through September 12, 2004.
Lodging
- The historic Crater Lake Lodge, perched on the rim of Crater Lake, has 71 rooms and is open from May 26 to October 17, 2004 The Mazama Village Motor Inn is located at Annie Springs, near the Route 62 junction. Two units are designed for wheelchair accessibility. The Motor Inn is open from June 4 to October 4. Check in is at the Mazama Village Store. To reserve rooms in advance, contact 541-594-2255 ext. 3705.
Automotive Needs
- Gas is available Seasonally. Unleaded gasoline, oil, and some basic automotive needs are available at the Mazama Village Store. Regular and Diesel fuels are not available. There are no mechanics available in the park. Tow services come from Chemult or Prospect, Oregon.
Mazama Village Store
- The store is located at the Annie Springs Entrance near the junction with Route 62. Convenience store items, a coin operated laundry, and shower facilities are available. Hours are 10:00 a.m. to 5:00 p.m. from June 4 to June 11; 7:00 a.m. to 10 p.m. from June 11 to September 7; 8:00 a.m. to 8:00 p.m. from September 7 to closing on October 4, 2004
For more information
about Crater Lake please
call 541-594-3100
or you can visit this website at
www.craterlakelodges.com